EDIT MAIN
Carthage Independent School District
Distinguished Alumni Hall of Fame
Nomination deadline is August 1.
Click here for the nomination form or call (903) 693-3806 ext. #1005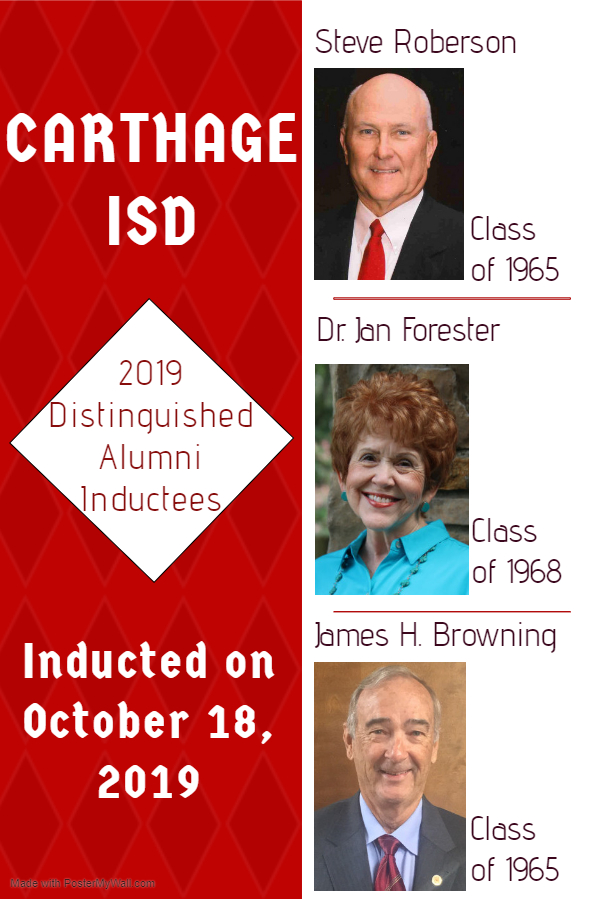 If you would like to view pictures from this year's reception, please click here.
The CISD Distinguished Alumni Hall of Fame:
2003
Judge K. Baker
Troy H. LaGrone
Colonel Jack Reeves
2004
Rev. Dr. Guston Browning
Neal A. Hawthorn
Dr. Karen McKee Newell
2005
Capt. James F Deppe
J. Wayne Kyle, D.V.M.
Lynn C. Vincent
2006
Betty Colemon
Baitland, Ed.D.
John Wesley Barnett
Rev. Dr. Mouzon Biggs, Jr.
2007
Van Dorn Hooker, Jr.
James Travis "Jim" Reeves
John M. Stovall, D.D.S.
2008
John and Walta Cooke
Rob D. Trimble III
David W. Wieting, Ph.D.
2009
Jerry T. Hanszen
Don V. Ingram
J. Clayton La Grone
2010
Warren T. Biggs
E. Leon Carter
Charles O. Thomas
2011
Cassity J. Jones
Nancy Williams Langford
N.E. "Son" Walker
2012
Kay Lynn Vincent Brumbaugh
JoAnn Hooper Parker
John Randall "Randy" Taylor
2013
Sam Baxter
Yancy Bounds
Dana Ransom
2014
Craig G. Buck
Dr. Sherilyn Emberton
Jonathan Perlman
2015
Mildred Holeman
Tommie Ritter Smith
Kurt Wall
2016
Paula Goode
Jim Dunlap
Judge Terry Bailey
2017Glenda Nelson
Kent Hanszen
Dr. Rick Wall
2018
Bob Browning
Jim Payne
Dr. Eddie Morrison
Click here for The Carthage ISD Distinguished Alumni Hall of Fame nomination form.